Education
In order to bring an appreciation of Chinese music to British people of all generations, Cheng Yu gives lectures and workshops for schools, colleges and universities and other organisations. These are always enthusiastically appreciated by staff and students alike. Major venues at which Cheng Yu has held workshops include:
Durham University
Goldsmiths College
Kingston University
The London college of Music
The Royal Academy of Music
The South Bank Centre
Sotheby's
In 1995 she founded the School of Oriental and African Studies (SOAS) Chinese Ensemble class, and has been teaching these classes regularly since then.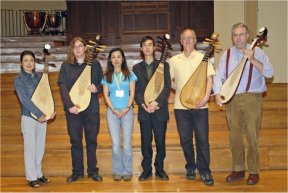 Cheng Yu with her pipa students at the 2005 Chinese Music Summer School at the Royal Academy of Music, London.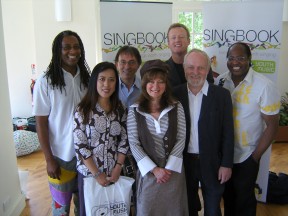 With the composers who wrote for the Youth Music Singbook, published in 2005 by Faber Music (left to right):
Front row: Cheng Yu, Debbie Wiseman and Richard Stilgoe
Back row: Eugene Skeef, Don Black, Howard Goodall and Tyndale Thomas

For more information please see www.singbook.org.uk.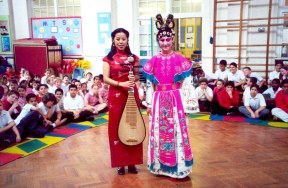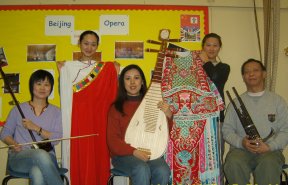 Concert with the UK Chinese Music Ensemble at Dixie Grammar School, Market Bosworth, Nuneaton, Leicestershire.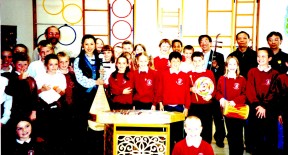 Mengjiang Music Project - East Meets West - a performance in Bristol of this contemporary musical work by Jolyon Laycock for Chinese quartet with western chamber orchestra, percussion, soprano soloist, junior school choir and sound effects group. Click here for more details.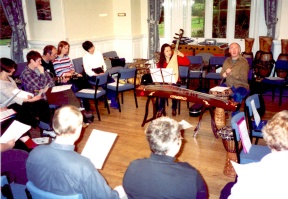 Three days of Chinese music training for school music teachers in Newcastle-upon-Tyne organised by Four Corners Music.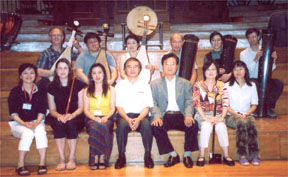 Chinese Music Summer School 24-30 July, 2004
Following the success of the 2003 guqin summer school, seven full days of expert tuition on Chinese instrumental music were held at the Royal Academy of Music in London. The tutors were: guqin master Professor Li Xiangting, pipa virtuoso Cheng Yu, dizi master Ning Baosheng, and erhu soloist Hu Bin. It was part of the Summer Music School programmes organised by Asian Music Circuit (AMC). The week provided a rare opportunity to learn and explore Chinese music in the UK. Classes were open to all takers, beginners and advanced.

For details, please see our special report.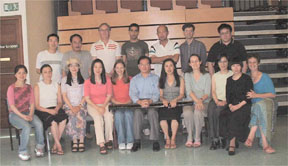 Guqin workshops
Guqin master Gong Yi of Shanghai and Cheng Yu gave a highly successful three day series of workshops on guqin music at SOAS, University of London. 14 Guqin players of all levels of ability attended. There was an opportunity for participants to perform their music on the final day. It was part of the Summer Music School programmes organised by Asian Music Circuit (AMC).

See our special report for further information and pictures.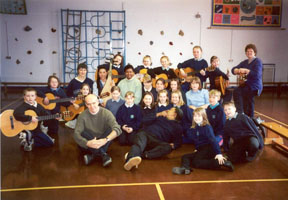 Workshop at a school in Birmingham with the Grand Union Orchestra.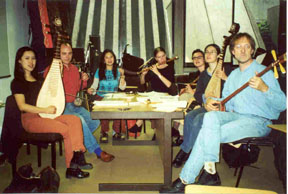 Teaching a Silk and Bamboo ensemble class at the School of Oriental and African Studies (SOAS), University of London.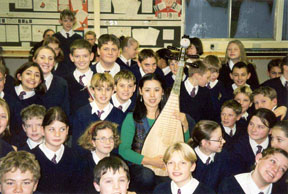 Workshop at Sheldon School in Chippenham, Wiltshire.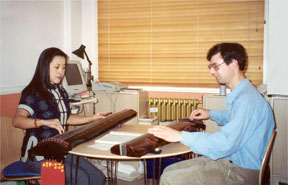 Cheng Yu also offers private tuition on pipa and guqin.