Damon Albarn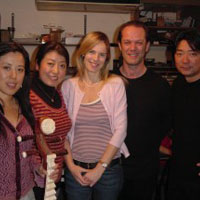 Chen Shizheng
"Monkey - Journey to The West" - An Opera-circus spectacular
The musicians of the UK Chinese Ensemble have been working with Theatre/opera Director Mr Chen Shizheng (pictured right, based in New York) and Damon Albarn (pictured left, Blur front singer) on the music for 'Monkey - Journey to The West' - one of the best-known 16th century Chinese classic novels - by Wu Cheng'en.
Monkey: Journey to the West is a boundary-breaking new circus-opera, based on a Chinese literary classic, bringing together leading artists from the worlds of East and West. This epic journey of enlightenment will be retold through circus, martial arts and music.
It is written, adapted and directed by Chinese theatre and opera director, Chen Shizheng. Damon Albarn is writing the musical score, with visual concept and animation by Jamie Hewlett. Albarn and Hewlett are the artists behind the award-winning animated band, Gorillaz.
The spectacular and innovative production will feature 45 Chinese circus acrobats, Shaolin martial artists, Beijing Opera actors and singers. In addition, it will feature 15 Chinese and western musicians.
Adapted from a 16th century novel by Chinese writer Wu Cheng'en, Monkey tells the story of a devoted monk, Tripitaka, and his three companions, Friar Sandy, Pigsy and the Monkey King who travel westwards to India on a quest to recover sacred Buddhist texts. Their adventures are an invigorating combination of spiritual enlightenment, martial arts, acrobatics and irreverent slapstick. The music will be pop and world with strong Chinese influences. An opera for the 21st century. Monkey: Journey to the West will launch at the Manchester International Festival, at the Palace Theatre, on June 28th 2007.
See www.manchesterinternationalfestival.com
The Yin Yang Collective - China-West mixed ensemble
The UK Chinese music Ensemble and Chamber Music Company
The Yin Yang Collective is the UK's first long-term collaborative ensemble fusing Western and Chinese instruments and traditions. The Collective is also a platform for developing new work on Chinese and western themes. The core instruments are Chinese pipa, guzheng, yangqin, erhu with Western piano, violin, cello, flute, clarinet combining to present a new perspective on east and west.
The Yin Yang music collaboration has already performed at the inauguration of China Telecom (Europe) Ltd. in London and at Cambridge Dragon International in Autumn 2006. The project will feature at the Second Glance Festival in May 2007.
The Silk String Quartet with Matthew Barley
This is a high-profile China-West fusion music project with multi-media presentations and will be ready to present by the end of 2007. It features the Silk Strings and Matthew Barley "one of the most talented young cellists" (Leonard Bernstein, 1986) with hi-tech video images intertwined with the music. The musicians will challenge their classical/traditional instruments by using electronic versions of the pipa, guqin and cello for some pieces. There will be improvisations and specially commissioned music.
Partnership/sponsor: Asian Music Circuit
New AMC Asian Music Centre on China
In April 2006, Cheng Yu led a team of four to China to collect first-hand materials on musical instruments and instrument making, as well as interviewing and filming musicians and performances in Beijing, Shanghai and Xi'an. These included Beijing Zhihua Temple Buddhist music, Beijing Opera, balladry, Jingyun and Xihe drum music, Shanghai Chenghuang Monastery Daoist music, Silk and Bamboo Teahouse music, Xi'an Guyue ritual music, folk songs, Wanwan Qiang theatre music, and instrumental music on the erhu, pipa, guqin, dizi, guzheng and yangqin.
Now back in the UK, Cheng Yu is working with Asian Music Circuit to establish a multimedia programme on Chinese music for its new Centre. It is an innovative audio-visual information display of musical instruments and various musical genres supported by a large database accessed through touch screen terminals. It is expected that the 'sensor' space will enable participants to select musical elements and create their own music - simply by moving their hands and body. Sound is experienced with its associated time, season, location and mood.
The Centre is expected to open in June/July 2006.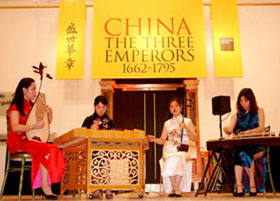 The Silk String Quartet
We are pleased to announce our latest addition to Chinese music in the UK - the birth of The Silk String Quartet - the first and only Chinese String Quartet in the UK and Europe.
New in its form and style, unique in its instrumentation and presentation, the Silk String Quartet is a young and professional London based Chinese string instrumental group of top quality. It combines traditional and modern, Chinese and Western music in a fresh and creative way.
The group will be formally launched in June 2006 (date to be confirmed).

For more information or a promotional CD, please contact us.
Extreme Music
Cheng Yu and the UK Chinese Ensemble are to record a CD of Chinese music for Extreme Music. The recording will also feature guqin music by masters Li Xiangting and Gong Yi, recorded during their recent visit to the UK.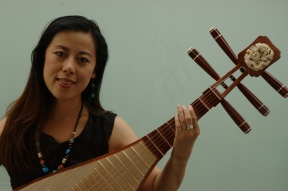 The 5-string pipa project
Cheng Yu was awarded a Commission Fund by Women in Music in November 2002 for her project: The 5-string pipa: creation, construction, composition and performance. Both the 4- and 5-string pipa originally came to China through the Silk Road, becoming core instruments in literati and court music during the Tang Dynasty (618-907AD). Whereas the 4-string pipa continues to thrive today, the 5-string pipa was lost around the 8th century. Not only has this project enabled the birth of the first 5-string pipa in the history of Chinese music for over a millennium, it has also created new works for the lost/new instrument. Cheng Yu travelled to China and Korea to reconstruct the instrument and work on a modern design, and worked with three young and talented women composers. This is a cross-cultural music project that involves composers across the world: Xu Yi (French Chinese, Living in Paris), Dr. Gillian Carcas (British, living in West Sussex), Dr. Gyewon Byeon (Korean, living in Seoul). Dr. Stephen Dydo in the USA has composed a piece ("Wind Chimes") for her for 5-string pipa and guitar. It is a fascinating and exciting project.

Press releases.

Funding News
Following the award of the Women in Music Commissioning Fund in November 2002, Cheng Yu was offered another grant from the Arts Council of England. This grant was announced at the end of May 2003 and is for performances and a CD recording (released in April, 2006) for her 5-string pipa project. She was awarded a further grant in July 2004 by the Arts and Humanities Research Board (AHRB) for this project. It enabled her to carry out all aspects of the project: research, construction, performances and a CD recording.
Research Project - book on the 5-stringed Pipa
Having successfully premiered her 5-stringed pipa in London, Seoul and Taipei, Cheng Yu has been given an AHRC (Arts and Humanities Research Council) Research fellowship (part-time) to work on a book about her 5-stringed pipa. She will be working with the Dept. of Music at SOAS, University of London to complete the project.

This book documents the history of the 5-string pipa and the author's experience of (re)creation. The story begins with a personal testimony of the origins of the idea and then discusses the challenges of design through to construction and the reasons why she chose to commission a number of cross-cultural pieces as well as a contemporary diaspora Chinese composer. The book also addresses the general issues that arise when one (re)creates a long lost instrument for the radically different musicological, technical and sociological conditions of the present day. The book is accompanied by music scores and a CD of the new compositions.
5-Stringed Pipa New CD Recording Project
Having previously been awarded grants from the Arts Council of England, Women in Music, and the Arts and Humanities Research Board for her 5-stringed pipa project, Cheng Yu has been invited by ARC Music International to record a new CD featuring the instrument she recreated. She will present a set of diverse styles of music collaborating with musicians and composers on cross-culture and cross-genre music. It will include some solo pieces. The recording will take place at the end of 2007.

Click here for for further information.
World of Strings
In October and November 2005, Cheng Yu toured in the Netherlands with World of Strings, a project of Dutch guitar virtuoso Jan Kuiper, in which the world's best string players formed a group. In the recent past he had already successfully teamed up guitarists representing styles like folk, rock, jazz and flamenco [www.fivegreatguitars.com]. In this first edition of World of Strings, Jan Kuiper presented three string wizards from the great world music continents Asia and Africa. These musicians belong to the absolute elite in their native countries. Besides guitarist Jan Kuiper, the group was complemented by two percussionists. The group is an absolute hit at jazz and world music festivals all over the world.
Gallery
Click to see full image.
India and China
The string instruments from India and China are the sitar and the pipa. The sitar is the ultimate instrument to resound the fluent melodic movements - the raga - and the numbers of glissandos that are so remarkable for Indian vocal music. The four stringed pipa is closely related to the European lute and is famed for its unique richness of expression. The tabla, which takes care of the rhythmic accompaniment, consist of two small drums. By hammering with the fingers and/or pressing on the drum skin the player has a rich tone pallette at his disposal.
Africa
The kora from West Africa is a 24-stringed harp which has a calabash for a body. The kora's sound is very percussive and combines well with the sabar and djembé, Africa's most important drums. The African high life guitar style is a translation of kora melodies towards the more western oriented electric guitar.

The musicians will play in different combinations and styles and all in traditional outfits. During the first set solos, duos and trios will interchange, while in the second set the whole group will perform. All this makes World of Strings a great festival act.
Musicians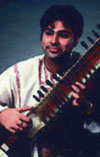 Purbayan Chatterjee - Gifted sitar player from India.

Cheng Yu - internationally renowned pipa soloist from Beijing, China.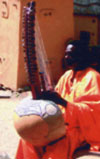 Zoumana Diarra - Multi-instrumentalist from Mali. Plays kora and guitar during the show.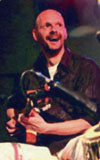 Jan Kuiper - Top Dutch guitarist. Performed with all the great jazz and world musicians.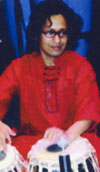 Niti Ranjan Biswas - Fabulous tabla player from Bangladesh.

Moussé Pathé M'Baye - Grand master of percussion - sabar en djembé - from Senegal.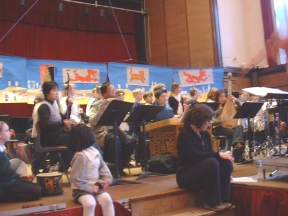 Mengjiang music project - East meets West in music
This contemporary musical work was composed by Jolyon Laycock for Chinese quartet with western chamber orchestra, percussion, soprano soloist, junior school choir and sound effects group. This work is based on a Chinese legend from the Qin Dynasty (221-207 BC), which tells of a young woman who stood up for herself in a form of non-violent protest against the tyranny of Qin Shi Huang, the first Emperor of all China. According to the legend, Mengjiang's husband died of over-work after he was press-ganged into an army assigned to work on the building of the Great Wall. Setting out on an epic journey, Mengjiang eventually found her husband's body. She began to weep and her tears became a torrential flood, perhaps the mythical origin of the Yellow River itself, still called "China's Sorrow" because if its tendency to flood disastrously. The flood washed away part of the wall, revealing the buried bodies of many thousands of men who had perished in its construction. Mengjiang then carried her husband in a solemn procession along the entire length of the wall until she reached the Yellow Sea at Old Dragon Head where she walked into the waves and drowned herself.

This work was performed for the Corsham Festival, June 2002; in Bristol in November and December 2003 and in Aix-en-Provence, France in March 2004. Additional performances were held in Bristol and other locations throughout the UK during Chinese New Year in January 2004.