Cheng Yu : Awards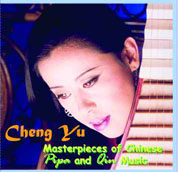 2005
Finalist for the Creative Excellence (5-stringed pipa creation), The Pearl Awards 2005.
2004
Youth Music Singbook "songwriter" Commission for Mo Li Hua (Jasmine Flower).
2003
AHRB Small Grant for Creative Performance: 5-stringed pipa project: research and fieldwork.
2003
Art Council of England for 5-stringed pipa project: construction and performances.
2002
Women in Music Commissioning Fund: 5-stringed pipa: for compositions.
1999
Wingate Scholarship for Chinese Music Research.
1998
Wingate Scholarship for PhD in Chinese Music Research.
1996
Grant from London Arts Board for Chinese Music Gala 1-5.
1995
K. C. Wong Scholarship for Mmus., studying at SOAS.
1983-1987
Full performance related scholarship for 4-years, Xi'an Conservatory of Music, China
1983
"Excellent performer" award for pipa at the China Traditional Instruments Competition.
1978
First prize winner for pipa, "China Youth Competition in Traditional Instruments", Beijing.